Bagley Honey/Bitty B Series
The Honey B was first introduced in 1975 with a square diving bib. It was popular enough to have a diving version made available to happy fishermen by 1976. A very short time after it's introduction bass fishing legend Rick Clunn credited the Honey B with his 1976 Bassmaster Classic win on Lake Guntersville. Needless to say, sales of the diminutive balsa sensation increased even more following that milestone event! A decision was made in 1988 to make the lure slightly larger so it would cast better. At that time the Honey B became the Bitty B, though the model's code remained the same.
I'm currently writing this in the year 2021 and the Honey B is still being made by the Bagley Bait Co., though they now say in the description "thin wall design imitates the delicate action of balsa" making me think it's just made of plastic these days. Still, the Honey/Bitty B will always be a favorite with fishermen and collectors alike!
Click image to view a larger picture. Click again if plus sign (+) is present.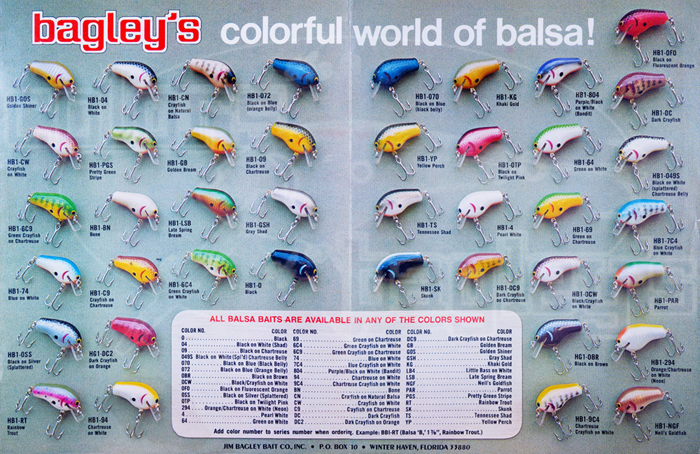 Click image to view a larger picture. Click again if plus sign (+) is present.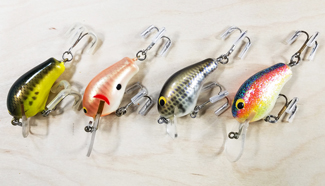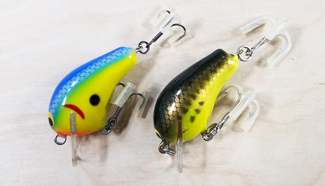 The top left photo shows the small size difference between a Honey B and a Bitty B. The top right pictures shows that some time in the 2000's they started making the Honey/Bitty B smaller again.
The bottom left picture is of a super shallow Bitty B. This bait was designed to "wake", or cause a bulge of water to be pushed out in front of it as it was fished near the water's surface. The Bitty B, seen in the bottom right picture, often had a self describing cliche' on the top of the lure.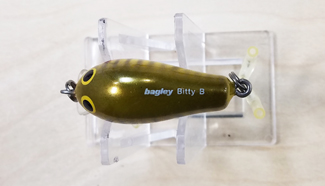 In 1999 the Bitty B was refitted with a shallow KB1 bib. I don't know how long the lure was made like this, but the beautiful packaging, along with some great colors, have made this a popular model for Honey/Bitty B enthusiasts to collect!
Click image to view a larger picture. Click again if plus sign (+) is present.

B Flat
(They naturally triggered the attack instinct in large bass.)
Balsa B
(Bagley's hughly popular entry into the "Alphabet" lure phenomenon.)
Bang-O-B
(Versatile hybrid of the Diving B and Bang-O-Lure.)
Bang-O-Lure
(Jim Bagley's favorites.)
Honey/Bitty B
(Bassmaster Classic Winner!)
Divin' B
(The Diving B's were among the most popular Bagley models.)
Kill'R B
(The Kill'R B's were the all-purpose Bagley's.)
Bagley Shiner/Pinfish
(Deadly in clear water!)
Small Fry Shad
(The Small Fry Shad fished as good as it looked!)
The copyright in this website and the material on this website including without limitation the text, computer code, artwork, photographs, and images is owned by Mike Metzler and thecolorsofbagleys.com..